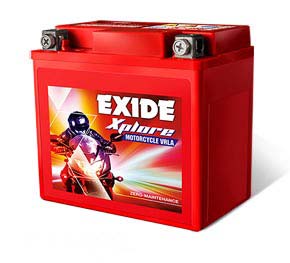 Introducing Exide Xplore. The only zero-maintenance VRLA motorcycle battery with the X Factor. Built with world-class Calcium Effects Technology, it delivers a power-packed performance and endures tough Indian road conditions. Xplore comes with a 24-month pro-rata warranty that includes a 24-month free replacement warranty.
• The revolutionary Gas Recombination system eliminates water loss making the battery completely maintenance-free.
• The spill-proof design guards against the possibility of leakage, even if mounted in a tilted or inclined position.
• The advanced Lead-Calcium technology leads to low self-discharge.
• Unique Flame Arrestor ensures greater safety.
• The AGM construction gives superior cranking power and better resistance to vibration and hence makes this battery the most reliable in the market today.
• The permanently sealed VRLA battery comes factory-charged.
• It needs no refilling, electrolyte or water.


TECHNICAL SPECIFICATIONS OF EXIDE XPLORE MOTORCYCLE BATTERIES
Battery Type

Part Number

Capacity (AH)
10HR (REF)

CCA at -18°C 
as per SAE

Maximum Overall Dimensions (MM)

Nominal Filled
Weight (Kg)

Electrolyte
Volume
(Litres)

Charging
Current (A)

Battery
Layout

L

W

H

XLTZ3

FXL0-XLTZ3

3

-

113

70

85

1.33

0.200

0.3

Left Layout

XLTZ4

FXL0-XLTZ4

4

50

113

70

85

1.50

0.186

0.3

Left Layout

XLTZ5

FXL0-XLTZ5

4

60

113

70

105

2.00

0.250

0.4

Left Layout

XLTZ7

FXL0-XLTZ7

6

85

113

70

130

2.65

0.355

0.7

Left Layout
---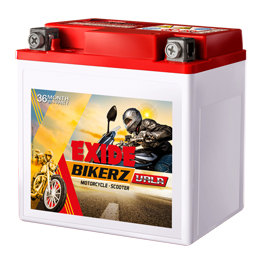 Exide Bikerz-VRLA range of batteries has been specially designed for the new generation two-wheelers. Conforming to Japanese Standard JIS D5302, the batteries have special features that meet the arduous requirements of two-wheeler riding on Indian roads.
• Super-sealed and spill proof with virtually no possibility of leak
• Thicker Absorbed glass mat (AGM) separator with superior absorption and uniform compression makes the performance long lasting without water addition
• Acid starved condition minimizes destructive ultra deep discharges and enables plate from shedding ensuring longer life
• All acid is absorbed by special plates and AGM separators
• Use of Advanced Lead-Calcium technology which boosts up starting power without water loss
• Improved recharging efficiency with special paste recipe
• Improved charge recovery capability from deeply discharged conditions
• Superior component design gives longer shelf life and improved life cycle performance
• Extreme vibration resistance especially designed for rough roads
• Upgrade for motorcycles requiring the best performance
• Better cranking performance and low self discharge
• Available' factory charged' ready to use


TECHNICAL SPECIFICATIONS OF BIKERZ VRLA MOTORCYCLE BATTERIES
Battery Type

Part Number

Capacity (Ah)
10Hr (Ref)

CCA at -18°C

Maximum overall Dimensions (mm)

Nominal filled
weight (Kg)

Electrolyte
volume (Kg)

Charging
current (A)

Battery
Layout

L

W

H

BVTZ4

FBV0-BVTZ4

3

50

113

70

85

1.50

0.186

0.3

L

BVTZ5

FBV0-BVTZ5

4

60

113

70

105

2.00

0.250

0.4

L

BVTZ7

FBV0-BVTZ7

6

85

113

70

130

2.65

0.355

0.6

L

BVTZ9

FBV0-BVTZ9

8

120

150

87

105

3.10

0.420

0.8

R

12BV2.5L-C

FBV0-12BV2.5L-C

2.5

-  

81

71

106

1.20

0.22

0.25

L

12BV5L-B

FBV0-12BV5L-B

5

70

121

61

131

2.10

0.40

0.5

L

12BV7B-B

FBV0-12BV7B-B

7

85

151

61

131

2.70

0.52

0.7

R

12BV9-B

FBV0-12BV9-B

9

120

137

76

139

3.10

0.67

0.9

R